Pintech Acoustic to Electronic Drum Kit Conversion
$59.99 – $119.99
Description

Convert your acoustic drum kit into an electronic drum kit without drilling any new holes!
Used by some of the biggest bands in the world: Def Leppard, Linkin Park, Godsmack, JB and the Moonshine Band and more!
The Pintech A2E kit is the all-in-one solution for converting your drum kit into an electronic kit.  Pintech's system is 100% reversible, offers real positional sensing, single or dual zone capabilities, and allows you to use mesh or acoustic heads.
Pintech's exclusive design features a carbon steel metal bridge system that is adjustable for any size drum ranging from 8" all the way up to 26"!
Easy to install, and doesn't require any special tools.  Pintech's solution is the most heavy-duty and universal conversion kit on the market.
Featuring our specially engineered 3 piece dual density foam, you are guaranteed to have the best playing experience imaginable. Just adjust sensitivity through your drum module. Our triggers are so sensitive that you can use brushes for ultra quietness.
USE THIS SYSTEM TO ALSO AMPLIFY YOUR ACOUSTIC KIT!
WORKS GREAT AS AN INTERNAL CONTACT MIC!
CHOOSE THE JACK DESIGN YOU WANT: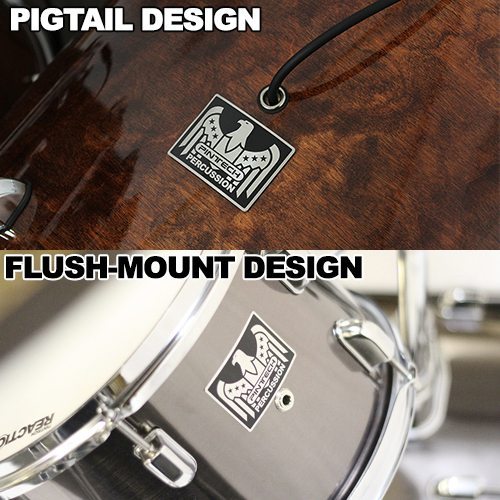 DIFFERENCES IN JACK DESIGNS:
The "Pigtail" system has a cord that sticks out of your drum.  The end of the cord is a 1/4″ female plug.  This is the easier of the two systems to install, but may not have as clean of a look as the "flush-mount" design.  This design is also not as rugged as the "Flush-Mount" design – Because someone can pull on the cable and potentially pull on the trigger. This system is the preferred way to go if you don't want to modify anything on your drums at all.
The "Flush-Mount" system allows you to install the 1/4″ plug right into the shell.  Normally, people will utilize their existing vent hole to install this system. You MAY have to cut out your metal grommet that is in your vent hole, as it requires a 1/2″ hole.  This system gives you kit a cleaner look, and allows more protection if someone pulls out a cord.  This system is a little harder to install than the "Pigtail" system, but should still be easy to do for any drummer.
FEATURES:
Available in single or dual zone
100% velocity sensitive trigger design
Positional Sensing
100% Reversible
No Drilling
Works with acoustic or mesh heads
Works with standard acoustic drums with an even amount of lugs
All metal design
Backed by Pintech's exclusive limited lifetime guarantee
100% American Made
INCLUDES:
Trigger assembly with EZ-Connect Technology (Single or dual zone)
3 piece dual density foam system
3 piece adjustable metal bridge system
1/4″ Female Jack
Black Tape
INSTALLATION MANUAL(PHOTO VERSION)

INSTALLATION MANUAL