LEARN MORE ABOUT PINTECH MESH HEADS
Pintech uses mesh for our heads on our drums. We believe mesh is the best drum head material for electronic drums, and we want you to know why our mesh is different. Below you will find some main points on what makes our Reaction Series mesh heads different.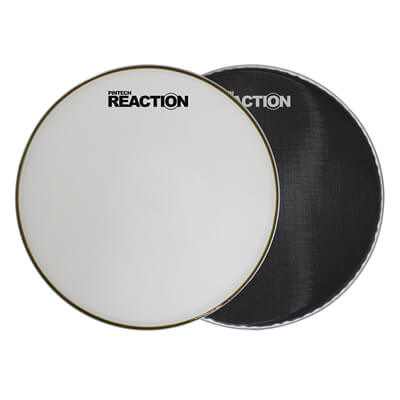 SILENCE IS GOLDEN

Pintech has been tested against almost every brand of mesh head in the world, and continues to rank best in it's class for quietness. If you live in an apartment, or just simply need to keep things quiet, look no further than the Reaction Series mesh heads from Pintech. Feel confident in knowing that you can't get any quieter.

DURABILITY

Pintech uses some of the most expensive and rare mesh in the world. Our mesh was originally engineered for deep sea filtration systems. This mesh was made to filter stuff out of the water and rub up against coral, sharp rocks and debris on the bottom of the ocean. This material is as tough as it gets when it comes to mesh heads.

FEEL AND REBOUND

Pintech's mesh is 100% tune-able. Too bouncy? Loosen the head. Not enough rebound? Tighten them down. Pintech's Reaction Series mesh heads are single-layer, which means that you can get the most fine adjustments to how you want them to feel. Over and over again, we hear from our customers that our mesh heads are the most authentic feeling mesh heads on the market.

RUBBER ON THE OUTSIDE

Pintech's Reaction Series mesh heads have a rubber compound on the outside where the mesh meets the metal ring. This rubber does 2 things: It helps the mesh from tearing if you tighten them down too much, and it takes the "spring" out of the mesh so you get a more natural feeling experience.

2 COLORS TO CHOOSE FROM

Pintech is the only manufacture who makes our mesh heads in 2 different colors. Black and white. That way you can get the perfect desired look for your drum kit. Same material, same great feel.

MORE SIZES

Pintech offers our mesh heads in every size from 8″ all the way up to 26″! Now you can fully convert your acoustic drum kit, and have mesh heads on the whole kit.